Customer evidence, such as testimonials and success stories, is among an organization's most important go-to-market assets. Reference management is the process of collecting this evidence to later use it to amplify marketing and sales campaigns. But with extensive customer lists spanning industries and demographics, this process is time-consuming and full of inefficiencies. Traditional means of reference management are no longer effective in today's fast-paced world. With automated technology now an integral part of our day-to-day, customer marketers don't have time to waste on menial tasks.
Customer evidence provides potential buyers with the credibility and value they need to make well-informed purchasing decisions. This evidence provides real, trustworthy metrics for prospective customers to consider while ultimately influencing their final purchase decision. The right technology can make tedious reference management a thing of the past.
Innovative marketing tools enable customer marketers to modernize their reference management programs to become more efficient, effective, and productive. Let's take a closer look at how the right technology helps marketers evolve past inefficient reference management.
Reference management isn't obsolete or unnecessary, it's just no longer efficient
Reference management, as it has traditionally been done, is no longer sufficient. While important and necessary, it can also be time-consuming, costly, and complicated. With nearly 80% of B2B buyers referencing customer evidence in their buying research, it's essential for customer marketing teams to prioritize the efficiency of their reference management programs. Contacting customers individually, whether via email, text, or phone call, is a lengthy process that reduces productivity… and well… stinks.
Not to mention, many companies provide incentives to customers for participating or providing references, feedback, or reviews. Depending on what the incentive is, this can become pretty costly. Plus, legal requirements are another roadblock that can make reference management complex. After spending multiple hours (or even days!) chasing down a single testimonial, your customer may not feel comfortable sharing their story publicly and/or their legal and PR teams could advise against it.
Does this sound familiar? To uncover the best practices and strategies for acquiring and sharing customer evidence, check out our blog.
Serve up noteworthy, snackable content in minutes rather than in weeks or months
Customer marketers spend a substantial amount of time and money on reference management in order to create customer-driven content. Typically, customer marketers end up spending hours (even weeks or months!) gathering customer evidence and references to use in marketing and sales content. The worst part? All of this time and effort typically results in just a few pieces of content per quarter. It's no wonder that organizations are searching for more efficient methods!
With certain customer marketing platforms, even after these stories are collected, marketers can create customer-driven marketing and sales collateral directly within the platform. With a steady stream of stories, testimonials, reviews, and more headed their way, marketers will be able to automatically spin up content in a short amount of time. For example, Wrike, a project management platform, was able to generate dozens of customer proof points with our customer marketing platform. From customer spotlights to impactful graphs and meaningful quotes, there is no shortage of content Wrike's marketing team can leverage in their initiatives — take a look!
Check out the overview of UserEvidence to see how the platform can help speed up your reference management program.
Leverage dynamic templates and automation to enable content creation
Customer marketing technology has changed reference management for the better. The right technology will provide templates and automation to efficiently collect user evidence and streamline the reference management process.
For instance, customer marketing technology enables the sending of a survey (either via email or through a direct URL) to hundreds or even thousands of customers at one time. Customers can choose whether or not to remain anonymous and are able to submit their information on their own schedule, making them more likely to participate. This allows marketers to collect mass amounts of customer evidence at once, and is certainly more efficient and effective than cold calling or contacting customers individually!
For example, take a look at this graph GitLab created with the UserEvidence platform. GitLab simply sent out a survey to their current customers asking how much they have decreased their engineering overhead by working with GitLab. With UserEvidence, GitLab's customer marketers were able to distill the data from the survey and automatically create content in minutes, such as the graph below.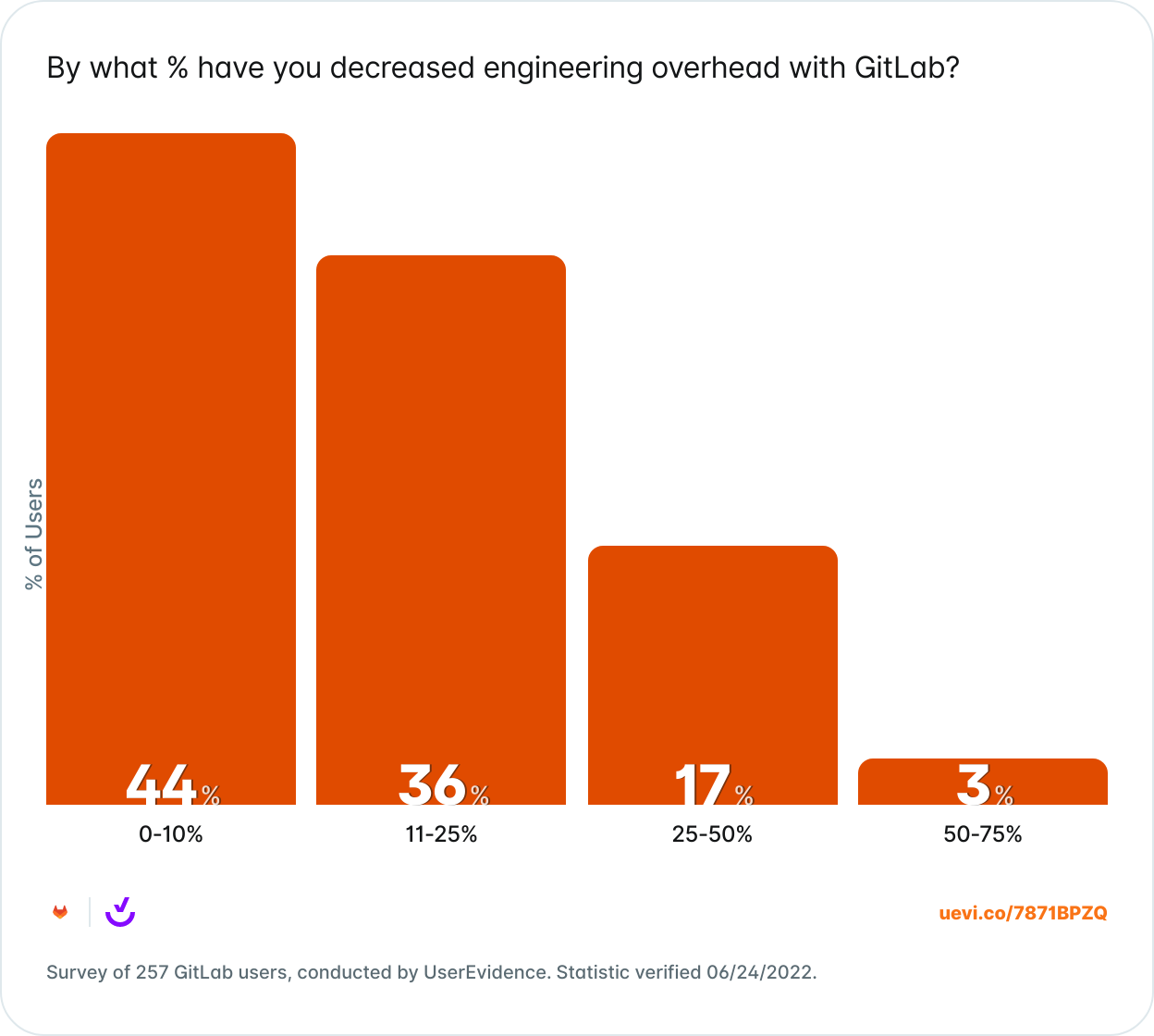 This graph can be downloaded as an image, embedded into a blog or presentation, infused into a sales deck, and even shared on social media just to name a few possibilities. In addition to graphs, UserEvidence can aggregate customer spotlights and statistics (featured below), making sure that your customer marketers always have a variety of content available to them to target any persona or demographic.

Gain insight into multiple customer experiences, use cases, and stories at once
Reference management is difficult as it typically requires reaching out to specific people individually, asking them for information about themselves and their business. With innovative marketing tools, marketers can gain insight into multiple industries, companies, and customer stories at scale. Having an arsenal of customer success stories gives an organization the advantage by being able to address any pain point or target any buyer persona with specific, real-life examples from current customers.
The right customer marketing technology enables marketers to reach out to multiple clients at opportune moments in their customer journey, collecting a higher volume of insights at a faster rate than traditional reference management tactics ever could.
For example, Yellowbrick has many customer testimonials in its UserEvidence Research Library. From leadership to IT and other departments, UserEvidence allows organizations (like Yellowbrick) to aggregate testimonials from different users into one singular location. This is especially important for marketing, as this provides their department with evidence from multiple personas and perspectives. With a wide range of customer evidence available, marketers can better address different use cases with high-impact content always one click away.
Below are just a few examples of how Yellowbrick was able to capture the voice of their customer in the form of testimonials from multiple personas, industries, and company sizes all with one question in a survey:
A Testimonial from a Data Analyst at a Large Enterprise in the Automotive Industry: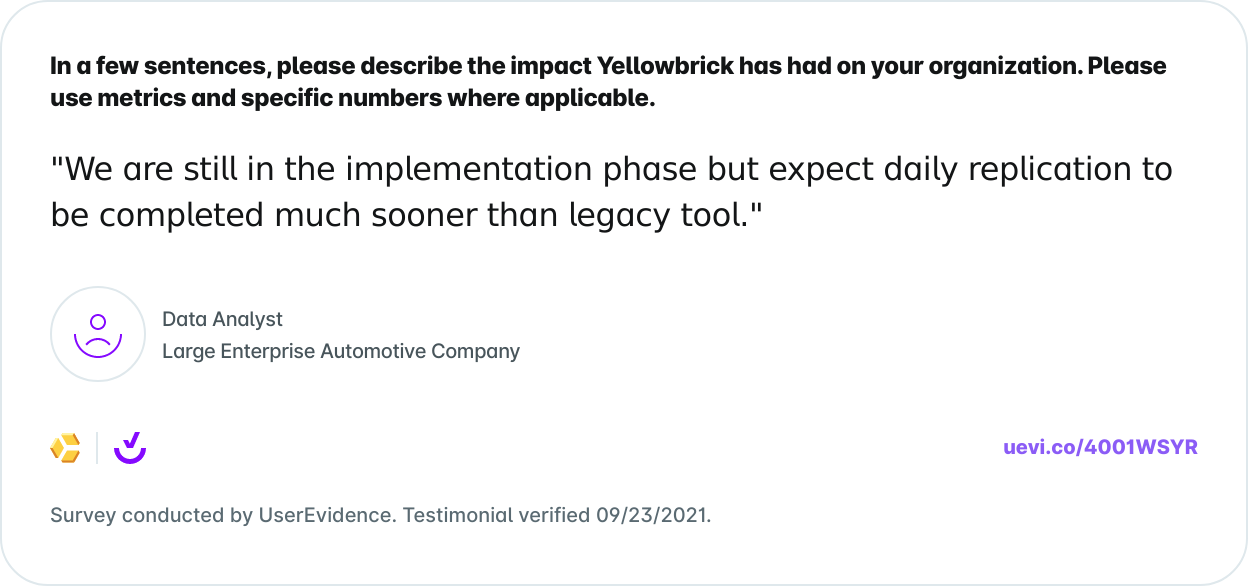 A Testimonial from a Mexico-based Wireless Company: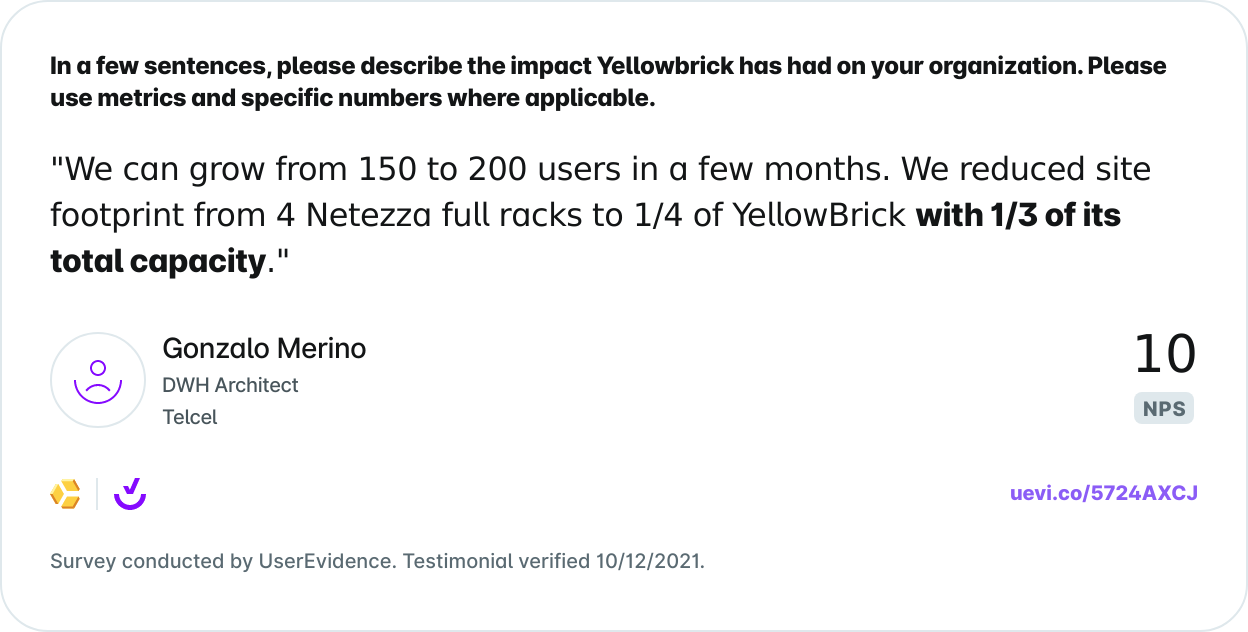 A Testimonial from a Customer at the Director Level:
Final thoughts
Customer marketers should be doing everything in their power to make their tedious reference management more efficient. By adopting the right technology, customer marketing teams will benefit from streamlining the reference management process — from collection and aggregation to content creation and distribution.
UserEvidence enables customer marketers to collect testimonials and success stories easily via surveys automatically distributed at opportune moments in the customer journey.
With us, you can modernize your reference management. Get in touch today to simplify your reference management process!